Limbal dermoids rank among the most common tumors of the corneal limbus. They are ocular choristomas and can occur in a variety of sizes. Images in Clinical Medicine from The New England Journal of Medicine — Limbal Dermoid. Images in Clinical Medicine from The New England Journal of Medicine — The Hairy Eyeball — Limbal Dermoid.
| | |
| --- | --- |
| Author: | Shaktitilar Dalabar |
| Country: | Togo |
| Language: | English (Spanish) |
| Genre: | Literature |
| Published (Last): | 20 January 2016 |
| Pages: | 289 |
| PDF File Size: | 11.64 Mb |
| ePub File Size: | 14.54 Mb |
| ISBN: | 986-2-32247-802-9 |
| Downloads: | 50699 |
| Price: | Free* [*Free Regsitration Required] |
| Uploader: | Mut |
This paper reviews the data in the published literature PubMed from to concerning the medical and surgical management of pediatric limbal dermoids. Current standard medical treatment for grade I pediatric limbal dermoids ie, with superficial corneal involvment is initially conservative. Combinations of these approaches seem to yield better and more stable long-term ocular surface cosmesis and fewer complications in comparison with traditional methods of excision and lamellar keratoplasty.
Management of amblyopia i. Epibulbar dermoids are the most common episcleral choristomas, ie, congenital overgrowth of normal tissues by collagenous connective tissue covered by epidermoid epithelium in an abnormal location, and involving the globe in children.
Epibulbar dermoids may present as a single lesion or as multiple lesions. They are marginally vascularized, smooth, whitish lesions with sebaceous components generally located in the inferotemporal globe or temporal limbus.
Anatomically, epibulbar dermoids have been classified into three grades. Grade I limbal dermoids are superficial lesions measuring less than 5 mm and are localized to the limbus Figure 1.
Such lesions may lead to development of anisometropic amblyopia, with slow growth resulting in oblique astigmatism and flattening of the cornea adjacent to the lesion. Grade III limbal dermoids, the least common of all the presenting dermoids, are large lesions covering the whole cornea and extending through the histological structures between the anterior surface of the eyeball and the pigmented epithelium of the iris Figure 3.
Of note, a subgroup of these lesions, ie, sebaceous nevus, is known to undergo malignant transformation. The pattern of inheritance is quite variable in epibulbar choristomas. They can be autosomal dominant, recessive, X-linked, or multifactorial. Essentially small asymptomatic grade I limbal dermoids should not be removed because they may lead to postoperative scarring and development of pseudopterygium. It is recommended that these children undergo close clinical observation with serial examinations in the office, not only to monitor stability but also to provide reassurance for parents.
During each office examination, which should be performed once every 2—3 months, visual acuity and presence or absence of amblyopia must be established and advice should be given on occlusion therapy. The size of the lesion, ideally captured and measured by digital photography, visual acuity, stereo acuity, cycloplegic refraction, and gonioscopy, need to be addressed, whenever possible.
These serial examinations should continue in all cases unless patients meet the following criteria for surgical intervention: When any of the above conditions or combination of conditions is noted, surgery should be considered and thoroughly discussed with the parents, including the potential risk of scarring, the requirement for ongoing treatment of amblyopia after surgery, need for spectacle or contact lens wear, possible repeat surgery, and loss of vision.
Conservative management by observation may not be a suitable option for such lesions. A thorough history should be taken from the parents, and serial in-office examinations with cycloplegic retinoscopy must be performed to monitor the size of the corneal dermoid.
Presence or lack of amblyopia must be established. These steps are necessary in order to plan for the appropriate surgical approach. There are recognized clinical indications for proceeding with surgical excision and anterior surface reconstruction in patients with a grade I limbal dermoid.
For example, if a child or the parents are not compliant with wearing of corrective spectacles, even for mild astigmatism, one may consider surgical excision in the presence of amblyopia. However, if adherence with spectacle wear is good in the setting of large, regular, and oblique astigmatism, and adequate follow-up for clinical treatment of amblyopia is possible, surgeons may opt to defer surgical intervention.
In the presence of amblyopia, one must exhaust all efforts to treat amblyopia medically, including with spectacles and occlusion therapy. Conversely, if the astigmatism is irregular or if the patient is not compliant with wearing of spectacles, surgical excision and reconstructive steps are indicated. Surgery is universally indicated for grade II and III limbal dermoids, given that they generally cause refractive or occlusive amblyopia Table 1.
Depth, size, and site of such lesions are critical factors. Other techniques include corneal-limbal scleral donor graft transplantation and surgical resection followed by reconstructive sutureless multilayered amniotic membrane transplantation.
No other complications were noted, but visual acuity and long-term results were not reported. Burillon et al 5 reviewed the records of 12 patients with solid ocular tumors between andreporting that six lesions could be easily shaved off the cornea and adjacent sclera to improve the appearance of the eye.
Visual acuity remained unchanged. In another two cases, early corneolamellar keratoplasty for large limbal dermoids improved best-corrected visual acuity BCVA.
They also suggested that early surgery with simple local resection combined with a conjunctival flap in order to cover the exposed area may be preferred to lamellar keratoplasty. In all but one patient, the minus cylinder axis of the astigmatism coincided with the location of the dermoid. Thirteen patients underwent simple surgical excision to remove their dermoid at ages ranging from 8 months to 15 years. The astigmatism persisted postoperatively, with little change in orientation or amount, regardless of patient age at the time of surgery.
No complications were reported in this study.
Management of pediatric corneal limbal dermoids
InBourne treated a series of four pediatric patients with grade II limbal dermoid by direct excision followed by lamellar keratoplasty using a 5—7 mm trephine with a good outcome. Although the results of surface reconstruction was dedmoid, it is possible that the final visual acuity was limited because of the older age of the patients and lack of follow-up treatment for amblyopia in some cases.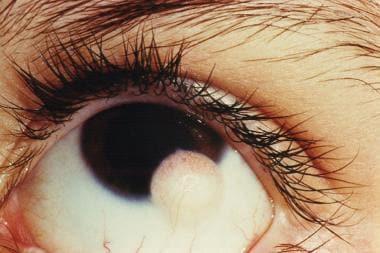 Zaidman et al reported on two-stage excision of a protuberant congenital corneal dermoid that extended into the anterior chamber in an infant aged one month. These authors considered that this technique minimized the complications associated with large corneal transplants and increased the chance of long-term success. The graft remained transparent without complication or rejection, and the infant continued to maintain constant fixation initially.
Panton and Sugar reviewed the clinical files of 10 patients who had undergone simple excision of a unilateral grade I epibulbar limbal dermoid. Postoperatively, every patient showed cosmetic improvement. Scott et al reported that seven of their 11 patients had a single inferotemporal limbal dermoid, with one patient having two dermoids in one eye.
Their median follow-up time was Vascularization developed postoperatively in two cases with previously excised lesions. One of these cases developed graft infection, underwent subsequent debridement, and had an opaque graft. BCVA was maintained or slightly improved in nine of these patients.
For the group overall and most individual patients, mean astigmatism, spherical equivalent, and refraction, as assessed by surgically-induced refractive change and h-vector analysis, were not significantly changed. Shen et al, in their retrospective Taiwanese study of 10 patients aged 5. Significant corneal opacity was found in one patient after surgery, and a mild bluish scleral hue was noted in three patients. Surgical complications included prolonged re-epithelialization, interface neovascularization, graft rejection, and steroid-induced glaucoma.
Watts et al 23 performed a study in Toronto in patients of mean age 4.
Dermoid excision and lamellar keratoplasty was performed in 48 eyes, simple excision was performed in two eyes, and a penetrating graft was performed in one eye. The mean graft size 6. Microperforations were noted in three eyes on excision of the dermoid. Opacification of part of the graft was seen in Simple excision of grade I and II corneal dermoids has typically been shown to result in a persistent epithelial defect, corneal vascularization, and scar formation, which is now thought to occur as a result of a cascade of events related to focal marginal limbal stem cell deficiency at the site of dermoid excision.
In a more recent study, Hong et al used autologous limbal stem cell transplantation in two patients with good results, with none of the aforementioned complications or visual loss.
They proceed to report that except for the 2 eyes with atopy, all amniotic membrane-covered surfaces showed rapid epithelialization in 2 to 4 weeks and reduced inflammation, vascularization, and scarring, and the surfaces became smooth once again. No complication was noted, but no details on visual acuity was reported.
Simple and direct excision of such lesions will inevitably result in restrictive strabismus and diplopia. They reported all but 16 eyes improved cosmetically.
All the patients showed reduction in astigmatism and eyes improved functionally. They conclude in order to avoid development of amblyopia, surgery at an early age is preferred.
Mader and Stulting have reported use of deep excision and deep lamellar keratoplasty with placement of eight equally spaced interrupted or running nylon sutures for surgical removal of a grade II limbal dermoid in a single case report.
A number of more recent reports have shown that tissue grafting using fresh amniotic membrane with or without a limbal allograft is appropriate for ocular and corneal surface reconstruction in grade I limbal dermoids.
The top amniotic membrane can be secured safely into the surrounding healthy corneal tissue using vicryl sutures in order to avoid any possibility of graft dislocation. The rationale for using multilayered amniotic membrane transplantation is to achieve complete volumetric filling of the defective area, which should be equal in height to that of the surrounding healthy corneal tissue. Extensive corneal defects appear to show improved healing following multilayered amniotic membrane transplantation and augmentation.
Limbal cells cultivated on denuded amniotic membrane formed a nicely stratified layer that adhered well to the underlying amniotic membrane. Similar studies have shown that the amniotic stromal matrix membrane maintains the keratocyte phenotype during ex vivo expansion, li,bal the amniotic membrane has been used in several protocols as a substrate to expand limbal epithelial progenitor cells directly from the limbal epithelium.
The amniotic membrane is known to differentiate into conjunctival epithelial cells, and amniotic membrane tissue provides der,oid natural biological substrate for indigenous corneal stromal dermoi and epithelial cell differentiation with subsequent reduction in postoperative scar formation.
Of a total of 11 patients with deep corneal ulcers, The group concluded multilayered amniotic membrane transplantation may be effective for the treatment of deep ulceration of the cornea and sclera. Recent advances in the use of fibrin glue in conjunction with amniotic membrane transplantation have significantly expanded the applicability of amniotic membrane transplantation in ocular surface reconstruction.
They concluded FG-assisted augmented AMT was easily performed for repairing large corneal perforations. Clinical studies of this technique are ongoing. Panda also commented on advances and research on fresh versus preserved amniotic membrane transplantation in ophthalmology. For grade III limbal dermoids, complete anterior segment reconstruction must be anticipated. Anterior segment optical coherence tomography and high-resolution immersion B scan ultrasonography with or without orbital magnetic resonance imaging must be performed in anticipation of full penetrating keratoplasty with or without lensectomy, either staged or consecutively, with secondary intraocular lens implantation using intraoperative aberrometry to assess for feasibility of intraocular lens implantation and appropriate power.
Enucleation or evisceration with subsequent orbital reconstruction has been proposed for grade III limbal dermoids where the globe is microphthalmic. Following a comprehensive review of the published literature, our recommendations as to which surgical procedure can be best used for each grade of pediatric limbal dermoid is summarized in Table 2.
Although indepth management of grade III limbal dermoids have been described in the literature, the surgical management of grade I and II limbal dermoids continues to evolve as a result of developing technology. Adjunctive therapeutic modalities with variously shaped femtosecond laser-assisted anterior lamellar keratoplasty versus Intralase-enhanced penetrating keratoplasty, deep anterior lamellar keratoplasty or topical application of a low-dose antimetabolite ie, mitomycin C after obtaining anterior segment optical coherence tomography with subsequent reconstruction are just some examples of where future clinical trials may take us in the near future in terms of the best surgical outcome following surgical excision of corneal or perilimbal dermoids.
A combination of surgical approaches involving excision of the dermoid from the sclera and partial keratectomy followed by reconstructive steps using a pericardial patch graft on the sclera with overlying conjunctival autologous limbal stem cell transplantation and volumetric filling of the residual corneal defect with fresh multilayered amniotic membrane rather than lamellar keratoplasty deep or superficial may allow for the best functional, refractive, and cosmetic outcomes postoperatively.
National Center for Biotechnology InformationU. Journal List Clin Ophthalmol v. Published online Mar Amir Pirouzian 1, 2. Author information Copyright and License information Disclaimer.
Management of pediatric corneal limbal dermoids
This is an Open Access article which permits unrestricted noncommercial use, provided the original work is properly cited. This article has been cited by other articles in PMC. Abstract This paper reviews the data in the published literature PubMed from dermood concerning the medical and surgical management of pediatric limbal dermoids.